Working from her London home, calligrapher, novice type designer, (and occasional illustrator),
Bella Schilling is a developing her first typeface, Dita. Bella has jumped in at the deep end with her debut. Designing Display, text and italic styles in multiple weights with an extended character palette that includes Diacritics, discretionary ligatures, symbols and Cyrillic! Dita is a Neo-Classical, modern typeface with asymmetrical serifs; it is precise although draws on Bella's
penmanship skills having calligraphic influences.
Bella and I have been chatting a lot lately (she is a wonderfully supportive and active member of Alphabettes.org), and I have been following Dita's development via social media (Twitter, Instagram and Tumblr links below). I admire Bella's tenacity and talent, am excited by the progress she is making (I am head over heals for Dita's italic z). So I asked Bella some questions about her process and inspirations thus far to share with our community.
You began the Font Development during an Internship Dalton Maag. How was the internship framed? Did you work on other faces too or were you focused on your project? What skills did you gain during the internship?
An internship at Dalton Maag is a shortened version of their Font Development Training Programme. During the first week, I did lots of calligraphy practice, such as doing drills of various strokes and shapes, followed by words and sentences. This was a very comfortable exercise as I had been teaching myself calligraphy for about a year at that point, but it was also very practical — I learnt that type design originated from calligraphy and pen skills before computers. I know right, shocker!
After the calligraphy exercises, I did 'letter painting', where you draw letters (HOVED aefghinopty H) on sheets of A3 paper in 7 or 8 styles (Old Style, Humanist, Slab Serif etc) and then fill in the lines with black paint, and use white-out for corrections. It's a very useful task in initial eye training because you have to really focus on drawing the correct proportions, shapes and weights. A tip that Ron gave me was to look at the surrounding white space as well as the letters themselves. I spent about a day on each style — it's painstaking work, and was a little hint of what came next!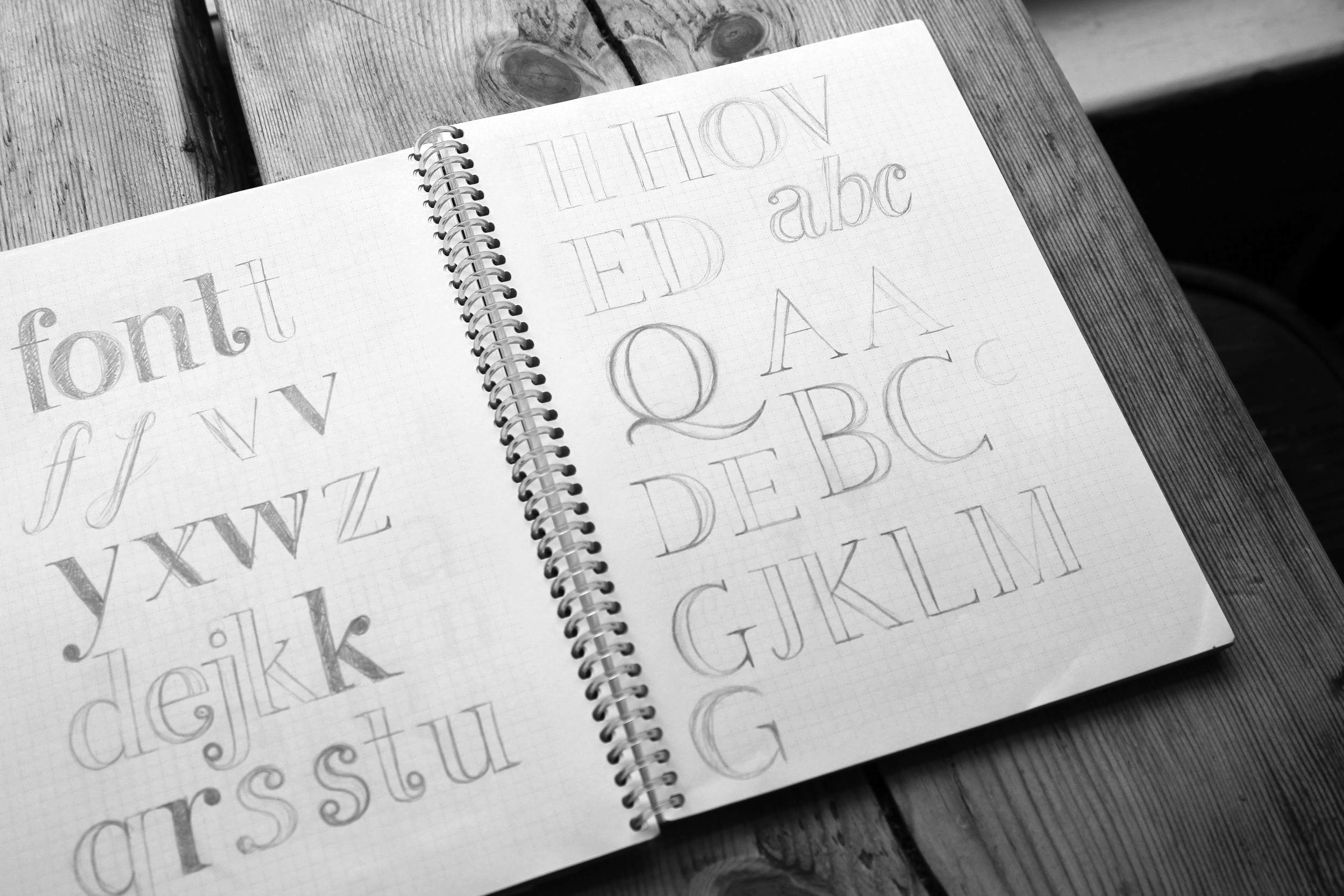 What were the first steps in Designing Dita?
Ron asked me if I had anything in particular in mind, and I said…no. I started sketching some
letters and what I was drawing were these super naïve, high contrast Bodoni-esque letter shapes with asymmetrical serifs. I think all this calligraphy practice had filtered its way into my subconscious and I was drawing letters inspired by traditional pen strokes. It's fair to say that I was clueless, and that in itself was incredibly intimidating, considering I was in such a well-known type design studio. But I kept my head down, and helped myself to far too many cookies whilst I was at it.
How much did you rely on drawing the letters and engineering the shapes vs how much did you let your calligraphy skills and writing letters inform the character shapes and weight distribution?
I think starting analogue is always a really underrated idea because you're always going to get your ideas down faster with pen and pencil than drawing vectors. The actual letters didn't differ too much from my sketches, apart from placing the weight distribution properly and not putting a ball terminal on the end of absolutely everything!
A lot of type designers have a muse in mind as they design... Are you designing with a specific piece of text, person or tone of voice in mind? And, which source material (typefaces or type specs) influenced your design for Dita?
With Dita, I'll admit that I didn't have a muse, and I just went with what seemed to come naturally when I started drawing. I've always loved these traditional, neo-classical faces (Didone, Bodoni etc) because they are so refined and elegant and timeless. Dita takes huge inspiration from these.
During the developmental and research process, I study a lot of typefaces. I print them out and
draw all over them — measuring, comparing, looking for consistencies, and so on. I make a lot of notes. I tend to stick them up on the wall in front of me so I can refer to them whenever I need to. The new font I have just started sketching does have a very specific influence however, and I am super excited about that!
You began with display and then reduced contrast and drama to create the text. What were some of the key visual characteristics you adjusted to make the text face more comfortable for reading?
The most significant change is that the text weights all have traditional serifs! As well as that, the contrast is decreased, the serifs are shorter, as are the ascenders and descenders. The huge Cap height is also smaller, although it needs to be smaller still. You can break a lot of rules with display fonts, but designing for text is a whole other ball game. Another piece of advice that Ron gave me in the beginning was "ignore the ugliness of on screen" — text fonts need to be practical. So don't worry too much about sculpting the most beautiful glyph, because if it doesn't sit right within copy, it's not going to work. I have to keep reminding myself of this!
Throughout this process, you have had the guidance of Ron Carpenter (Dalton Maag) and (your Alphabettes mentor) Krista Radoeva supporting, reviewing and providing critique. How has their input improved your critical eye and helped to advance Dita?
Considering I started my internship with zero experience in type design, Ron taught me a huge
amount and I will be eternally grateful for his wisdom, knowledge and immense patience. He has the most insane critical eye — I'm talking about spotting errors that are just one unit off — and I've learnt that you just have to remain painfully focused in training your eyes to spot mistakes. Rigorous testing and checking is also very important. It's easy to miss things; you have to be so meticulous and patient.
Having Krista as my mentor is amazing and she has really helped with my confidence to make
independent design decisions. I was about two months into designing the Cyrillic extension of Dita Display when we got paired in the mentorship programme, and Cyrillic is her area of expertise, so she has been an invaluable support. A short while ago, she advised me to take some time to do Cyrillic calligraphy practice which enabled me to think about the shapes very critically. Krista explains things very simply, and I really admire her honesty and bluntness, which I think is a very good approach to teaching.
As well as working on Dita, you're teaching yourself, Russian which is no small undertaking, what is it about the language, and Cyrillic script that captured your attention you and inspired you to extend the character palette?
I've had an appreciation for the Russian language for a while now; it's incredibly beautiful and rich and poetic. I wanted to learn it after hearing my partner talk fluently in Russian and honestly, I just thought wow, that's so hot. I've learnt quite a bit of Russian from the Michel Thomas audio courses, but I always learn well by writing things down. From doing that, I picked up the handwritten script fairly quickly as well as the alphabet, and that's when I decided to transfer that into my font development.
On your blog you say knowing a script and designing a script are two entirely different things! What are the challenges (and also advantages) of designing for characters that are less familiar to you?
The challenge is probably doing a new script justice, and really familiarising yourself with the
fundamental principles of designing specific letters. My first sketches of Dita Cyrillic letters with 'teeth' (/д, /ц, /щ) are absolutely miniscule! As a native Brit, all these cool 'extras' like diacritics are totally non-existent in the average 26 letter Latin alphabet, so I just didn't appreciate them from a design perspective. They were more like an after thought. I've realised now that they are absolutely crucial, and need to be respected.
As for the advantages, it's enabled me to be independent when it comes to research. I was super keen to go off and study Cyrillic typefaces, as well as look at books and other items such as food packaging and old tobacco tins. That was a lot of fun!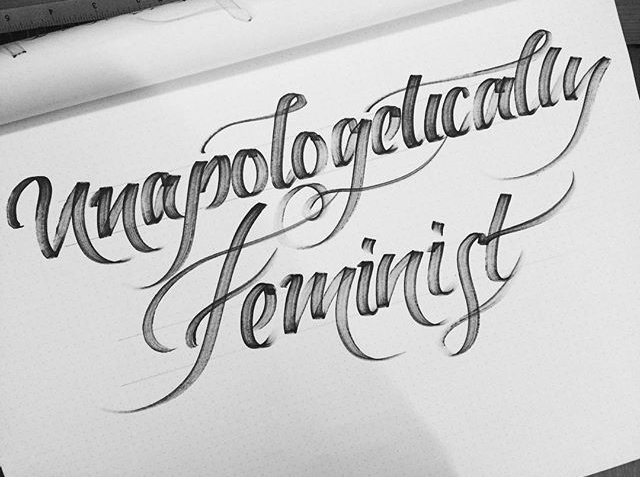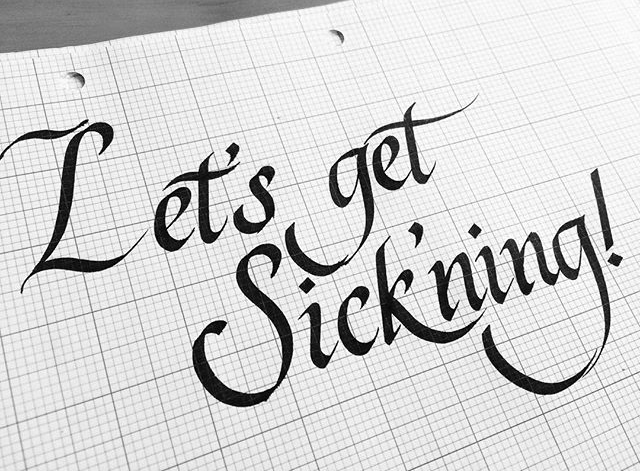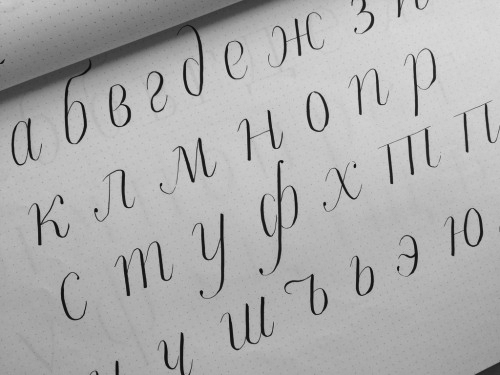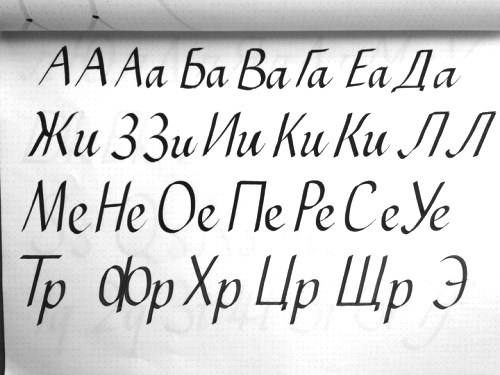 You mentioned in one of our recent conversations that you have to take breaks from type design because it hurts your brain and eyes after a while, so that is when you try to make time for your calligraphy practice. What calligraphic styles are you enjoying experimenting with in your mini breaks?
My absolute favourite is Copperplate! It's been a style I've been honing for a few years now, but I also adore Fraktur and Blackletter styles. I'm not very good at Brush script but I always enjoy it and I'm determined to get better at it. My mini breaks tend to be no longer than 10 or 15 minutes, and I practice drills or sentences, and this gives me a little bit of time to re-adjust my eyes. I can easily spend 12 hours a day on font development, so it's nice to let off a bit of steam here and there. I've found that when I come back to my font, I notice errors really quickly than if I were to just stare at my screen the entire time.
Which are your favourite paper, pens, ink to play with? And do you have favorite letters, words, phrases you like to write?
Haha, yes of course! Those who know me well enough know that RuPaul is one of the most influential and inspirational people in my life. I write a lot of Drag Race quotes, as well as
references and sayings from drag and gay culture.
My go-to sketchbooks are Rhoda because you can use pretty much any ink or pen, and the ink doesn't bleed. They're also great for sketching and they're pretty cheap — an A3 one is about £8! My favourite pens are: Pilot V Sign Pen for sketching letters; Pilot 0.4 G-Tec-C Maica for handwriting; (Rotring Tikky Graphic in 0.3 are also good); Pilot Parallels in 3.8mm for Fraktur/
Italic; and Faber Castell for brush script. There's a beautiful shop in Paris called Melodies Graphiques and I tend to stock up on pointed-pen nibs when I'm there.
Also, I read on your fantastic new site that you're into old skool Hip Hop... (Me too!) Which beats are you listening to in the studio while you work?
There's a great 24/7 instrumental hip hop radio station called 'Chillhop' which you can find on
YouTube. It's perfect for calligraphy. The hip hop artists I listen to include, but are not limited to, Rakim, Biggie Smalls, Nas, A Tribe Called Quest, Mos Def, Mono Massive, Kev Brown, Queen Latifah, and Masta Ace. I also listen to Neo Soul quite a bit too, so of course you've got Erykah
Badu, José James, D'Angelo, Hiatus Kaiyote.
I'm currently in the midst of a real Sade obsession right now, and I thoroughly enjoy Chaka Khan as well. I play "I'm Every Woman" on loop — there's something about super feminist 70s/80s vibes that gets me really pumped for the day! Highly recommended.
Finally how can people get in touch, and follow your progress with Dita's development?
I post a lot of my calligraphy and lettering (as well as type stuff) on my Instagram
[bella.marie.schilling] and I'm an avid tweeter [@bellaschilling1] which has got considerably more political recently. You've also got my Tumblr blog which documents my font development; there's lots of screenshots pictures on there to keep it fun and interesting! [bellamschilling.tumblr.com] And then there's my shiny new website [bellaschilling.com] where you can find commercial work, collaborations, and personal projects, and of course you can see Dita on there.