I always keep an eye on the grads from my old university (AUT) - the class of 2015 had some excellent graduation projects in the final year exhibition. In the latest installment of our student spotlight series I chatted to Emma Stewart who's type work caught my eye!
Tell us a little about yourself:
I'm twenty-one years old and have graduated AUT's Bachelor of Graphic Design at the end of last year. Throughout my three years there, I learnt so much about graphic design – from things like designing typefaces to paper engineering and infographics to screen printing. I feel that our course covered such a diverse range of aspects of graphic design, and was a wonderful opportunity to learn all about the possibilities of the industry.
How and when did you become interested in studying design?
I think that I've always been subconsciously really interested in design, without fully understanding that it was design that I was into … when I was younger, I was always collecting boxes and business cards and keeping little labels and tags that I liked from things that I bought or found. I became more aware of this interest in high school. I studied 'design' at NCEA level 2 and 3 where I discovered a whole new set of skills, so it seemed the natural progression to choose to study this at uni.
What was the most valuable lesson during your bachelor at AUT?
Learning the importance of critiques. I know that sitting at home in front of your computer by yourself is not always the most inspiring of working environments. But when you're in class or with a group of people and you force yourself to talk your work, explaining what you're doing and why you're making those choices, it can really advance your design. It's often in these instances that the best ideas are found and it can really get you more excited about your project. So I would say that this is the biggest lesson that my time at AUT has taught me.
What about type, calligraphy and or lettering specifically turns you on/excites/interests you?
I love typography because it is everywhere – hand-drawn or digitized, good or bad. Some typefaces, and especially calligraphy, you don't see it as a word but as an image, or a work of art in itself. In designing a typeface, I enjoy the challenge and see it as quite mathematical. I think of it as creating a series of icons that need to fit the same restrictions and set of rules that you set yourself. It can be a never-ending brief, but is a lot of fun.
Do you have a particular medium or tool that you gravitate towards or enjoy working with most? Mac, pencil, Wacom tablet, your hands, a software application?
When designing, I definitely prefer a more hands-on approach and try to work as much off the computer as I can. I find sitting at a computer all day is not the most creative of workspaces and working with your hands, whether physically making something, drawing it out or testing your designs. It gets you a lot more involved in the project and provokes you to think more about what you're doing in a more practical application, rather than simply the aesthetic shown onscreen. Also, depending on the project, gets you thinking more about how it will be used and not just how it looks. Working hands on allows you to better see the faults of your work and realise the changes that need to be made, whereas just looking at a 2D aspect of it onscreen these can easily be overlooked. It forces you to look at your work in an entirely new way. This is something that I have tried to incorporate into all of my projects at uni, making stuff whenever possible. Although, in saying all this, even though I do a lot of my work by hand, I then translate it into vector or use illustrator to make things clean and crisp and aligned. I'm into things being mathematically right, in alignment and looking clean.
Your type graduation project appears to use modular (and monolinear) stencil forms with clever ligatures. Where did you draw the inspiration/idea for this?
For my final uni project, I wanted to take this rare opportunity of an open brief to combine my two main passions within design – typography and packaging. I felt that environmentally friendly packaging has pretty much become the expected norm now. So for this reason, simply creating more eco packaging was not the main focus of the project but instead I was wanting to use other aspects of design to create this as an outcome. When we think 'eco' we automatically think brown paper, corrugated card and green ink, which was the default that I was wanting to avoid. I intended to challenge this stereotype of what we perceive to be eco and approach the ever present ideology of sustainable design in a new way. I came up with the idea of creating sustainable packaging through ink-free packaging.
So in designing my typeface, the intention was for it to be used for laser cutting, with the letters being cut out instead of printed. I did some research as part of my project as to why using ink is not ideal. My main motivation was that inks are created out of non-renewable resources. I figured why waste the worlds resources on printing on packaging, when that same packaging is destined for the trash anyway. The general idea was to design a typeface that created words formed entirely out of inter-connected letterforms, so in a practical sense, the entire word could be cut out still intact.
This involved designing for all scales, so it had to be versatile in all packaging aspects - barcode, body copy etc. so I needed to keep it quite simplified and yet still interesting. The use of the laser cutter presented some limitations – letterforms couldn't be too intricate or have too much contrast in weight within letterforms. This was not only for readability, but also so that the counter forms of the laser cutting would remain physically strong.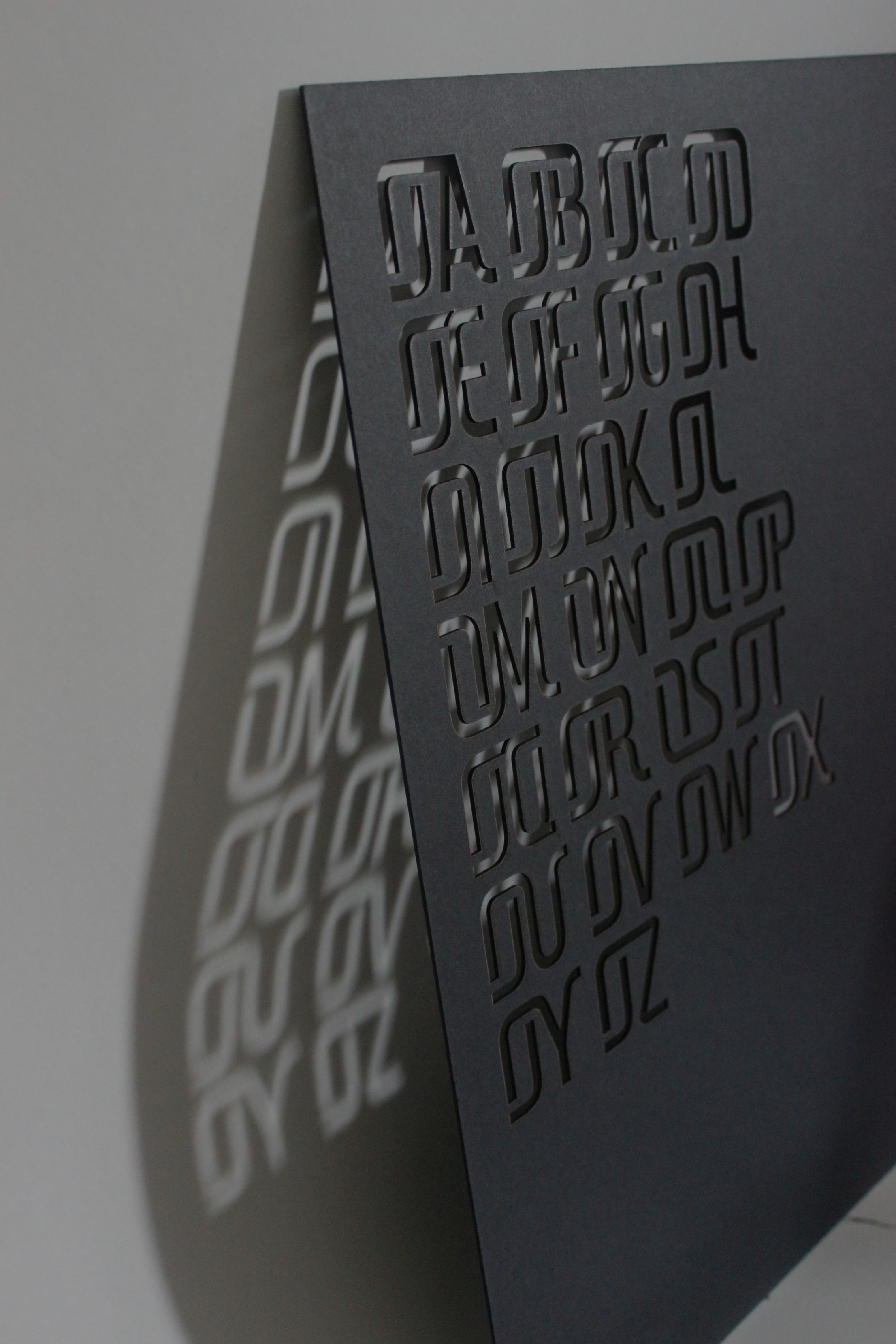 Can you share with us a little about the production process? Did this start in pencil before vector? What application did you use to vector? Did you build the face into a font? If so, what font development software did you use? Did you hand cut the black stencil specimens? Or were they digital/laser cut?
I always start in pencil, to quickly visualise my ideas before getting caught up in the finer details. Using illustrator, I created a grid system for most letters which really helped in sticking to the guidelines I set myself. I used a digital laser cutter for the specimen posters, but hand cut tests and packaging trials.
What challenges did the project present?
The most challenging aspect of the project was that it was as straightforward as designing each letter individually, but I had to design all of the ligatures for every letter combination. I was wanting to create a sense of uniformity for consistency within the typeface, but without it becoming too linear or unbalanced when forming words and sentences. Initially, the typeface was a lot more angular, with boxy connections and harsh right angles. Introducing the use of curves helped to smooth the ligatures and made them more natural and flowing, which was what I was after.
If you were to do the project again, what, if anything, would you do differently?
Not so much things that I would do differently, but more things that I would have liked to have explored in order to extend and better demonstrate the idea of ink free packaging. For instance, I would have liked to develop the packaging aspect a lot more. I was wanting to combine type and packaging, which I did, but it's still very much a typography-dominant project. I would have liked to have more packaging designs for type application to strengthen my idea, such as experimenting with different materials, layering, and creating new packaging forms. In theory these ideas worked, but to create these physically and try out a wider range of packaging would have been awesome.
Also, with more time, I would have loved to have developed the letterforms into a fully functioning font.
What are your next steps career-wise? What does your dream job (or enterprise if you're planning on creating your own business) look like?
I am interested in pursuing the packaging area of design, in some capacity. However, at the moment, I'm taking a bit of a break from design. I've been working in Nelson over the summer and am not too sure what my next steps are at this stage.
How can people get in touch/contact/see more of your work?