On Friday and Saturday, February 26th and 27th, 2016, I had the good fortune to attend The Art of the Book: Fine Printing in North America in the 21st Century. This was a two-day event, comprising the opening of the Jean-François Vilain and Roger Wieck fine press book exhibit, and the accompanying keynote and symposium at the University of Pennsylvania's Kislak Center. That's a long description of what was, in short, a gathering of some of the most innovative and honored practitioners of contemporary fine press printing on this continent. Resonant names include Abigail Rorer, Mindy Belloff, Russell Maret, and Carol Blinn, to note a few.
The event began Friday evening with a fast-paced survey of the present North American fine press movement, given by Mark Dimunation, the current Chief of Rare Books and Special Collections at the Library of Congress. Entitled "Looking Differently: Book Arts in the 21st Century," Dimunation's keynote address explored the evolution of the fine press book movement in the 20th and 21st centuries, calling it "a new creature, aesthetically and textually."
He first parsed for us the distinctions between the two main branches of the book arts movement: "fine press printing" and "artist's books." Modern printing, Dimunation suggested, explores the interactive relationship of image and type, the nature of typography, illustration, and text. Contemporary artist's books, however, are more often referencing the internal and the abstract. They also explode outward from traditional concerns of fine press printing such as the codex, letterpress, craft, and text. Book arts, as a whole, are "becoming now freer and less easily defined," he stated.
Dimunation then moved on to an illustrated exploration of the hallmarks of fine press printing today, highlighting the work of some of the most accomplished printers at work today — many of whom were sitting in the audience. One of the areas where "traditional practice breaks forth into new areas of expression," says Dimunation, is type design. Beginning with Frederic Goudy and his early 20th century peers, contemporary press work treats type as image and object in its own right. Letterforms and the physical (wood or metal) type itself are explored in letterpress printing. Dimunation underscored the "new heights of theory and perfection" being practiced by Russell Maret, whose work is a journey into letterforms and color. "The nature and function of letterforms is recollection and experience, and requires our full attention," Dimunation said of Maret's work.
Another hallmark of the fine press book today is the use of image. Exemplified by the likes of Claire Van Vliet, Gaylord Schanilec, and the artisans at Two Ponds Press, modern book arts have seen an increase in the role of printmaking. "In many cases," says Dimunation, printmaking "goes beyond illustration to full content," and utilizes many diverse technologies. These new technologies themselves have become a hallmark of contemporary printing, employing "unexpected techniques" such as graffiti, laser burning, and more.
Lastly, Dimunation spoke of the new formats and materials that are evolving the books of the 21st century. Artists and printers are moving beyond paper and the traditional codex to embrace glass, aluminum, found objects, and vinyl to create pop-ups, tunnel books, and moibus strips. Jen Bervin's incredible Dickinson Composites is just one of the mind-bending examples Dimunation offered.
Dimunation closed his keynote address with the observation that, "sometimes, it feels that we're somewhere between the traditional codex and art on the wall." Today's fine press printers and book artists are "forging new conceptualizations of the book." And that, says Dimunation, is giving all of us "a new experience of the book as an object of meaning."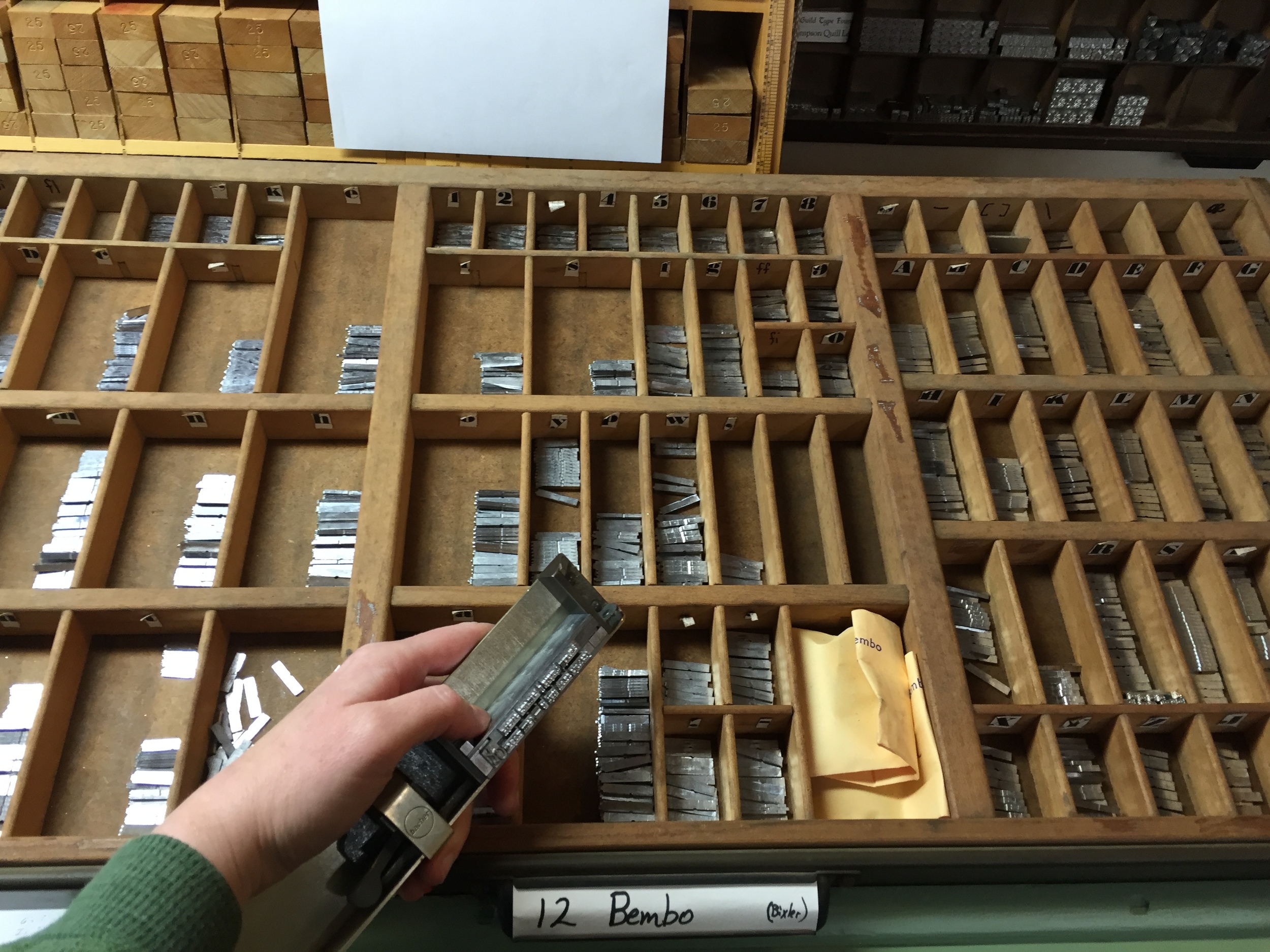 Emily Hancock is the talent and tenacity behind St Brigid Press a traditional letterpress printing and bookbinding studio in the Blue Ridge Mountains of Virginia.
Emily and I first connected via social media and I value our exchanges and am always inspired by her passion for her craft. So I was thrilled when she offered to contribute some words for this blog!
Emily is concerned with the nature of words and the words of nature. In the Autumn of 2011, that life-long love of classic and contemporary literature manifest through the traditional crafts of letterpress printing and bookbinding. Since then, Emily has created books, journals, and printed ephemera. Her latest book Reverie is an absolute joy! "I walked out of my print-shop door and began to harvest my illustrations" says Emily on her process of relief printing with plants gathered from the meadow around her studio. Timed to coincide with the new spring season Reverie: poems and nature-prints...for the re-greening of the world was printed on a beautiful iron handpress and finished with a Japanese inspired Chinese stab binding. Learn more about the book here.